Chief of Naval Operations Adm. Mike Gilday and Commandant of the Marine Corps Gen. David Berger met with the Royal Navy First Sea Lord and Chief of Naval Staff Adm. Sir Ben Key for a Strategic Dialogue at the Pentagon, Oct. 20.Previous
(U.S. Navy photo by Mass Communication Specialist 1st Class Michael Zingaro/released)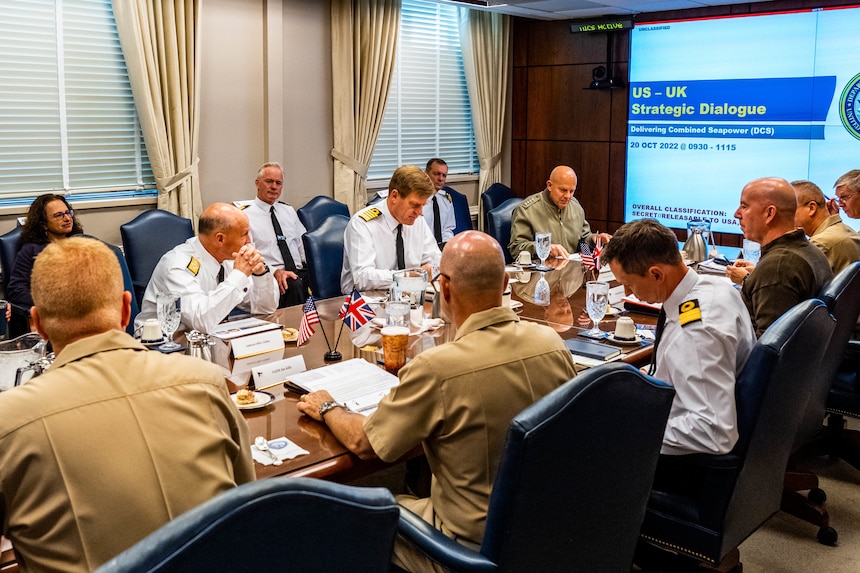 (U.S. Navy photo by Mass Communication Specialist 1st Class Michael Zingaro/released)
WASHINGTON (NNS) – Chief of Naval Operations Adm. Mike Gilday and Commandant of the Marine Corps Gen. David Berger met with the Royal Navy First Sea Lord and Chief of Naval Staff Adm. Sir Ben Key for a Strategic Dialogue at the Pentagon, Oct. 20.
The Strategic Dialogue takes place every other year between the U.S. and U.K navies. Known as "Delivering Combined Seapower," the dialogue was first introduced in 2016 to build and sustain interoperability between the U.S. and U.K. fleets.
"Our relationship with the Royal Navy is the bedrock of enduring maritime security, and a key enabler of integrated all-domain naval power," said Gilday. "Nothing our armed forces accomplish day-in and day-out happens without working alongside close allies, and the U.S. Navy has no closer ally than Adm. Key."
Gen. Berger's presence marks the first time the Commandant of the Marine Corps (CMC) has participated in the Strategic Dialogue. Moving forward, a key objective for both CNO and CMC is to increase integration and interoperability of U.S. and U.K. Navy and Marine forces.
"The Marine Corps always welcomes opportunities to partner with our allies in the naval forces," Berger said. "I look forward to continued dialogue and collaboration with the Royal Navy and the Royal Marines as we explore the full potential of Delivering Combined Seapower."
"It is a matter of enormous pride for me to visit the U.S. and talk to my great friends and colleagues Adm. Mike Gilday and Gen. David Berger. Once again we have reaffirmed the very special relationship between our two Nations and two Navies and our Marines," said Key.
"We have refreshed our longstanding commitment for us to work collaboratively across the world, from the Euro-Atlantic to the Indo-Pacific Regions, and to stand together to safeguard the use of the global maritime commons upon which our combined security and prosperity depend," he added.
During the dialogue the leaders discussed maritime strategies, warfighting concepts, and future force design. Berger released his latest 2022 Force Design 2030 annual report this past May, Gilday updated his Navigation Plan 2022 in July, and Key recently circulated his own Royal Navy strategy.
The U.S. and U.K. naval forces regularly operate together around the globe. In addition to annual, named exercises like Joint Warrior, Pacific Partnership, Rim of the Pacific, and Baltic Operations, the U.S. Navy, Marine Corps, and Royal Navy have teamed up this year for real-world contingency operations and joint deployments – to include the current deployment of the USS Gerald R. Ford (CVN 78).
Gilday last met with Key earlier this month at the Trans-Regional Seapower Symposium in Venice, Italy. The two navy chiefs are expected to next meet in November at the Western Pacific Naval Symposium in Yokohama, Japan.
Sourced from: https://www.navy.mil/Press-Office/Press-Releases/display-pressreleases/Article/3195505/cno-commandant-and-first-sea-lord-meet-for-strategic-dialogue-on-delivering-com/
Information vetted by the Veteran X Team.
NOT A VETERAN X MEMBER?
See all the benefits, services, and opportunities you're missing